LUXURY FURNITURE FOR VILLAS: HOW MUCH SHOULD YOU INVEST?
To complete a family villa, your budget for furniture can range from 15% to 20% of the total investment value in land. Each space in your sanctuary can be customized based on personal preferences, the size of the area, and the overall budget allocated for furniture.
While it's true that you should focus on the basic construction first before considering furniture, Bsmart recommends that you start planning the budget for both the construction and furniture at the same time. Choosing furniture is not a simple task, and after placing an order, it may take several months to half a year for production and installation. Ideally, your furniture should be ready and available immediately after the completion of the construction. The installation and finishing process can then take place over a few weeks, and when you move into your new home, the villa you've spent a lot of time and effort on will be ready for you to live in and enjoy.
Luxury furniture not only creates focal points for the overall house but also contributes to a harmonious and appealing interior space. Drawing on years of experience in advising on villa interiors and luxury penthouses, Bsmart hopes to provide you with additional reference information to make informed decisions about allocating a reasonable investment budget for each space in your wonderful abode.
WHAT DOES "LUXURY" MEAN?
Before discussing dry budget numbers, let's define what "luxury" means. Luxury is not merely about finding and purchasing furniture from luxurious brands. When we talk about luxury furniture, we refer to exquisite pieces designed and crafted specifically for you to enjoy every day. Luxury furniture gains more value when it is custom-made, a unique masterpiece that reflects your aesthetic taste and living philosophy. Luxury means stepping into a room that makes you smile, knowing that you will always be satisfied being there and sharing joy with your family and friends.
BUDGET ALLOCATION BY SPACE
Planning the budget for furniture investment will help you allocate an appropriate amount of money for each space and item. This enables you to be proactive and wise in making investment decisions and selecting high-quality, luxurious furniture that aligns with your desired style and aesthetics.
LIVING ROOM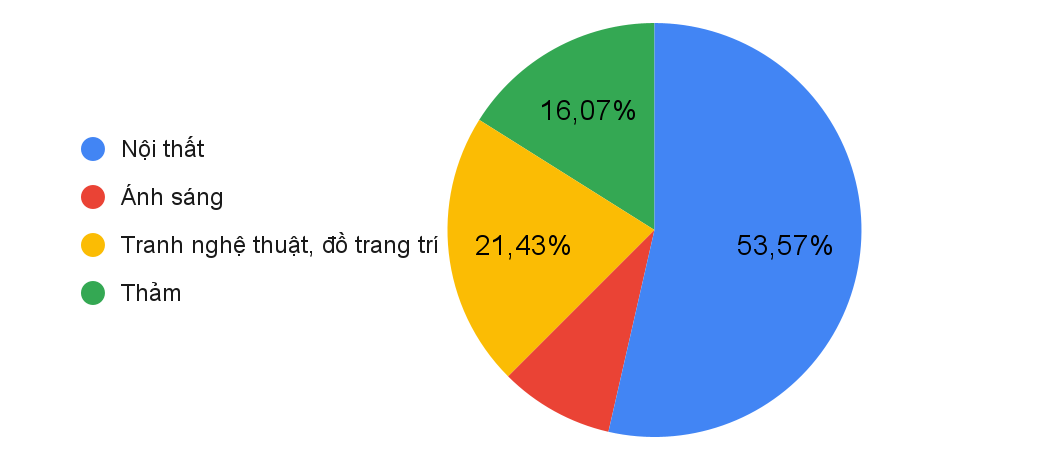 Any architect designing a living room always seeks a perfect balance between functionality and aesthetics. A luxurious living room is not only about space solutions but also includes the selection and design of built-in furniture, loose furniture, accent lighting adorned with decorative items, and artistic paintings that blend together to create the character and message of the homeowner while maintaining the full functionality and comfort for all family members and guests.
As the largest room in the house, the living room usually contains the most furniture and accounts for a significant portion of the overall budget. The cost of each item can vary greatly depending on whether you choose imported brands from famous international manufacturers or opt for locally produced furniture. Therefore, it is quite challenging to provide specific prices for any particular furniture item.
An excellent example is a decorative carpet in the living room. The cost of a carpet is an unpredictable factor. You can spend up to $25,000 on a handwoven silk carpet from Tibet, although most high-quality handwoven silk carpets range from $9,000 to $16,000.
To simplify the budgeting process, the average cost for investing in luxury furniture is estimated to be around $400 to $800 per square meter of space. For villas with living rooms ranging from 60 to 80 square meters, the total investment cost for living room furniture would be approximately $25,000 to $60,000.
KITCHEN AND DINING AREA – OPEN SPACE
In modern design, combining the kitchen and dining area in an open space is a popular and optimal trend that enhances interaction and communication among family members, creating a friendly environment for family members and guests. When it comes to budget allocation for the kitchen and dining area, it's important to consider both functional and aesthetic elements.
The kitchen is the heart of the home, and investing in high-quality appliances, cabinets, countertops, and fixtures is essential. Luxury kitchen furniture often includes custom-built cabinets with premium materials such as solid wood or high-quality laminates, top-of-the-line appliances from renowned brands, and stylish lighting fixtures. The cost of kitchen furniture and appliances can vary significantly depending on the size of the kitchen and the specific choices made.
For the dining area, the main focus is on the dining table and chairs. Luxury dining sets can range from simple and elegant designs to more elaborate and intricately crafted pieces. The material, craftsmanship, and brand reputation are factors that affect the price. Additionally, you may consider adding a sideboard or buffet table for storage and display purposes.
As a rough estimate, the budget for luxury kitchen and dining area furniture can range from $20,000 to $50,000 or more, depending on the size and level of customization desired.
MASTER BEDROOM
The master bedroom plays an important role in your home, it serves as an oasis of privacy, a space to rest and relax, reflecting your personal style. By investing in the design and selection of furniture to create a beautiful master bedroom, you will not only enhance your living experience but also increase the value of your home.
In the master bedroom, the bed is central and needs to invest a large part of the budget. Choose for yourself a spacious bed with luxurious materials and designs. Make the headboard wall a highlight with natural wood dotted with intricate carvings of artisans or combine materials such as wood, leather, colored stainless steel or lacquer. High-quality wood creates natural beauty, leather brings softness and class, colored stainless steel creates modern accents, and lacquer creates a glossy and smooth surface with craftsmanship and delicate artistic lines. Incorporating one of these elements, you will have a unique and attractive headboard wall composition, bringing a special space to your bedroom.
Dressing rooms with wardrobe systems, jewelry cabinets are often naturally connected to the master bedroom. With high-quality materials such as wood and natural stone, the dressing room will reflect class and sophistication. Natural light combined with smart lighting and lifting arms, premium mounts will highlight your outfit, while smart cabinet arrangements make it easy to find fashion outfits and accessories every day. Create a distinct space and express your personal style. The luxurious dressing room will be where you find yourself truly special and confident.
Wall and floor decoration also play an important role in creating a classy space. You can choose high-quality materials such as wood, natural stone or high-quality wallpaper to bring natural beauty and luxury.
Finally, look for the right lights and small decorative accessories to create a cozy and special space. Small details such as table lamps, pictures, greenery will bring sophistication and personalization to the space.
Master bedroom furniture combined with dressing room has an investment of 15,000 to 25,000 USD with the following interior investment rate suggestions:
PLAIT
The above figures are just a rough estimate of the cost of investing in the main spaces in your home. Your personal budget will increase or decrease, depending on the size of the house, your economic rationality, and your taste. For a more accurate budget and plan, you should contact a reputable interior designer. An architect can help you advise on space and a reasonable proportion of detailed investment for each space.
During the past 12 years, Bsmart has created interior masterpieces for thousands of villas and penthouses stretching nationwide from North, Central and South. We accompany with leading domestic and international architects on creative space design solutions combined with unique tailor-made interior "specialties" made from the passion, love of craft, attention to every detail of the artisan team, turning difficult requirements, The special of each customer into an enjoyable and extremely satisfying experience.
—–
𝑩𝒔𝒎𝒂𝒓𝒕 – 𝑺𝒎𝒂𝒓𝒕 𝒊𝒏 𝒅𝒆𝒕𝒂𝒊𝒍𝒔
Hotline: 093 422 1222 (HN) / 091 253 7997 (HCM)
Website: https://bsmart.vn/
Showroom address:
Hanoi: 230A Hoang Ngan – Trung Hoa – Cau Giay – Hanoi
HCM: 67 Nguyen Co Thach, An Loi Dong Ward, District 2, HCM
#BSmartdesignvn #noithatBSmart #BSmartconcept #BSmartkitchen #tubephiendai #tubepthongminh #tubepsangtrong #tubepcaocap