TOP 5 BRANDS OF HIGH-END IMPORTED KITCHEN EQUIPMENT
The Vietnamese market is increasingly vibrant and diversified with many choices for consumers. In addition to popular brands from Korea and Japan, there are many European brands from mid-end to high-end that have been present in Vietnam. Bsmart will give some suggestions about high-end kitchen equipment brands imported from Europe below.
FAGOR
Fagor is a home appliance brand from Spain. Founded and launched in 1956, this manufacturer has reached the top of home appliance brands in Europe and is the largest home appliance group in Spain. When entering the Vietnamese market, Fagor is not only appreciated for the durability of the product but also received good reviews for the aesthetics of the design. Therefore, Fagor is one of the leading imported equipment brands in Vietnam.
With experience and position in the market, Fagor affirms its position by offering a solution to synchronize high-end kitchen equipment with a full range of equipment such as oven, microwave, induction cooker, hood ,… The highlight of this brand is the quality and modern features of the product. You will be completely satisfied when using Fagor kitchen equipment synchronization solution. This solution helps you choose products that are consistent in quality, design and class.
TEKA

Also a Spain-based brand, Teka is a long-established brand since 1924. Teka is one of the world's leading brands in kitchen appliances. Teka has been well received and favored in Vietnam for more than 10 years because of its superior product quality and features. Moreover, the manufacturer also regularly updates new features and highly aesthetic design for its products. Teka is a brand specializing in kitchen equipment, so it also has very complete synchronous solutions including: stove, hood, oven, microwave, basin, faucet ,…
ASKO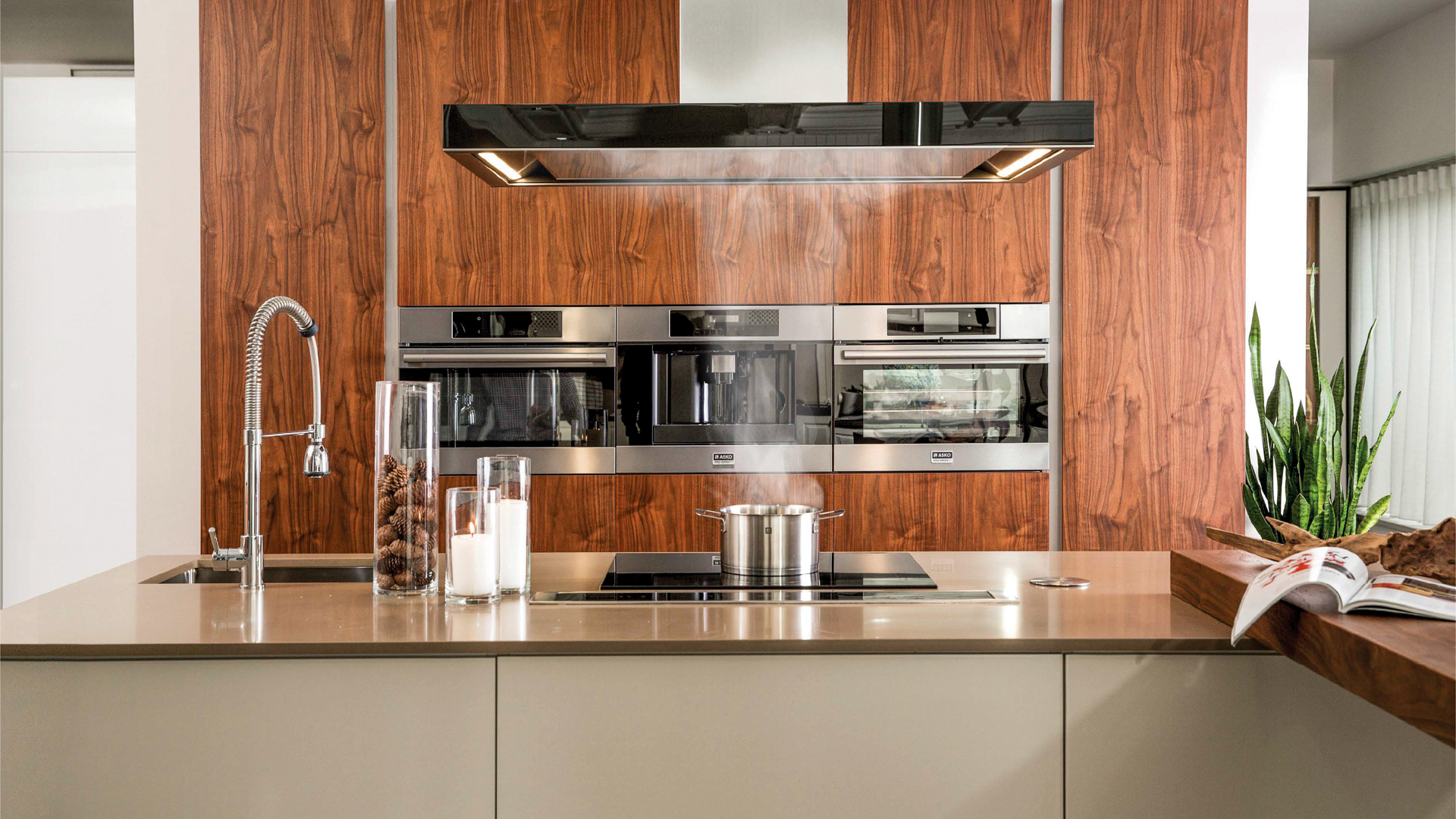 Asko is a luxury brand from Sweden with more than 60 years of experience in the field of kitchen appliances. Asko was the first brand to incorporate fashion into product design to differentiate itself in a market with messy, complex design machines. Advantages of Asko products: closeness, environmental friendliness, luxury, high quality, emphasis on usability. Asko is also the first brand to win the Nobel Prize of Designers (Nobel Red Dot Design Prize).
Asko not only provides solutions for synchronous kitchen equipment including: hoods, induction cookers, microwaves, ovens, refrigerators, dishwashers, sinks, faucets ,… Asko also affirms its class and helps customers synchronize other household appliances such as washing machines, dryers, coffee makers,…
Asko convinces customers at first sight of its high aesthetics in design, product quality and superior features. The manufacturer has continuously updated new technology and upgraded its products over the years to accompany customers.
MIELER
Founded and operating in Germany since 1899, Miele gradually asserted its leading position in the European market, especially in Germany. At Miele's factories, products are subjected to a rigorous inspection process – quality checks, environmental safety, electrical energy consumption. In addition, Miele also wins the sympathy of customers with its luxurious and elegant design.
Like other brands, Miele offers customers solutions that synchronize with appliances such as ovens, microwaves, dishwashers, hoods,… Synchronous solutions always help your kitchen space achieve the highest aesthetics. Miele also focuses on customer retention by constantly improving to update new technology.
CATA
Cata is a kitchen appliance brand that was born in 1947 and is based in Spain.
Cata is also a very popular brand in Europe. The brand was also the first manufacturer of hoods and ovens in Spain. Today's cata is also very diverse in product lines, models and features. Cata competes with other brands with the prestige of an established brand. At the same time, it is also a brand with relatively high durability.
Above are some suggestions of Bsmart about the leading European high-end kitchen equipment brands in Vietnam. You can choose for yourself a few brands that suit your requirements, preferences and kitchen space. Bsmart recommends choosing its synchronous solution to be able to achieve high aesthetics in the design of kitchen equipment decoration space. The synchronous solution also gives you convenience when using appliances, avoiding duplication of functions as well as optimizing the use of each kitchen appliance.