Dressing room – the most used space in the villas
Art has always taken people as the root to develop for thousands of years. In the interior, too, an apartment that is considered luxurious and classy is indispensable for beauty display spaces. And in those performance spaces, it is even more indispensable to have a place dedicated to the beauty of the owner himself. The place of presence of expensive gorgeous outfits is also a place for homeowners to be present as a real fashion model. That space is known as the "locker room."
Really the omission should be as the designer ignores this space. Because this can be considered the place most used by homeowners. Expensive outfits can cost as much as the average car, to custom-made accessories will be present in this space. Gone are the days of putting a few wooden, aluminum closets in addition to a long mirror as a place for dressing and storage. Now, in every luxury apartment, every villa, Penhouse always has an extremely luxurious and classy space for this fashion.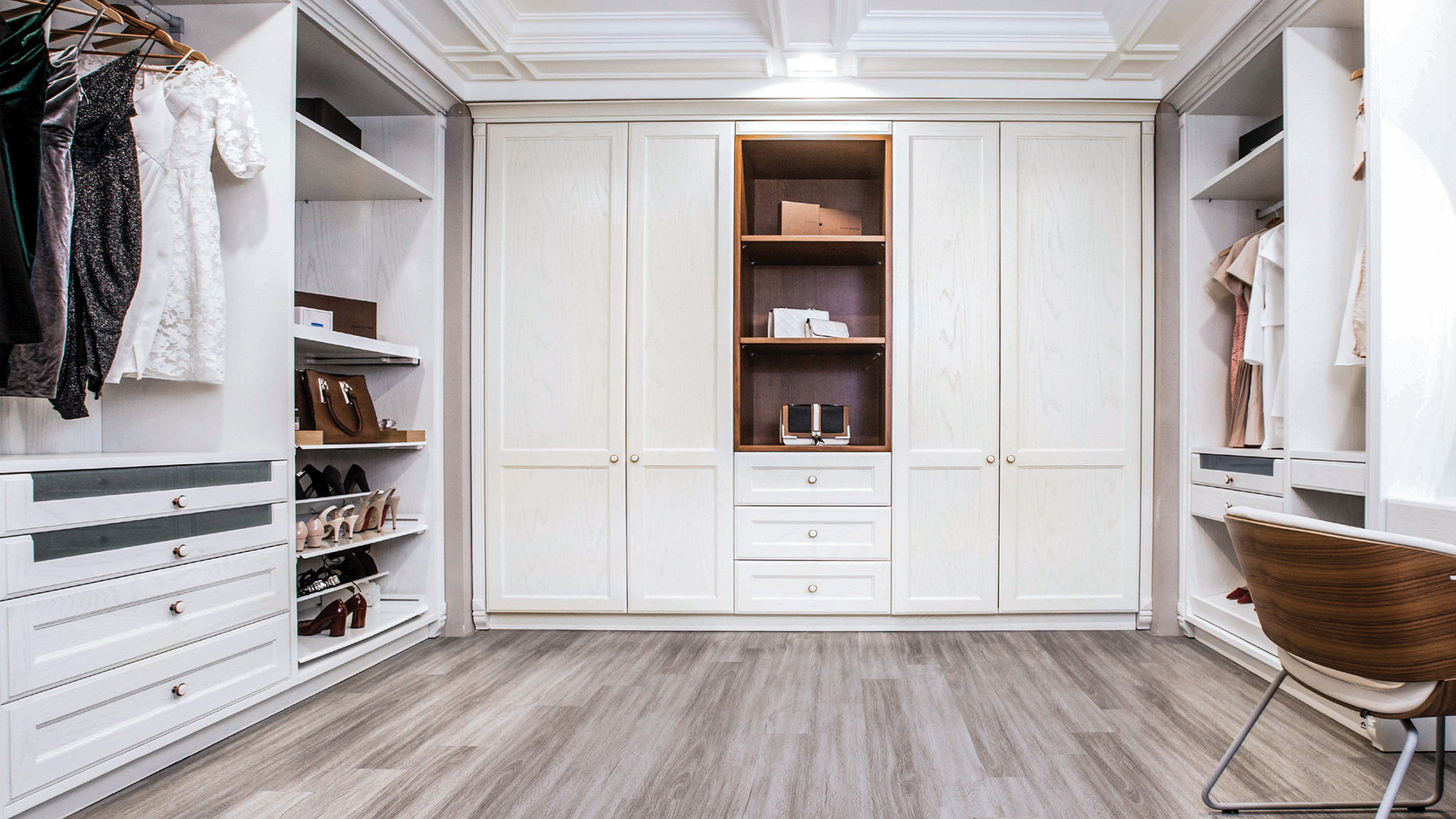 Differences of dressing rooms in the villas
The value of each outfit or accessory that the owner of the villa or penhouse owns is not small. And valuable things cannot be placed in a trivial thing. Not only showing the value of those expensive outfits, the dressing rooms in the villas also have a mission to enhance their beauty.
Only when using expensive materials, create items with expensive details. Place things that are already masterpieces in a space designed with perfect lighting with the task of storing and celebrating beauty. But in it, the gorgeous costumes become extravagant, the homeowner when entering that space can quit ordinary life and enter the catwalk wearing his own outfits.
The most used space in the house
Going out is needing a change, going home is needing a change or any daily activity we need a suitable outfit. So saying the dressing room is the most used space in the house is not wrong at all.
A space is used so much if it is only sketchy enough to function without any art in it. It is not worthy of the inherent magnitude of this important space.
What does BSMART's dressing room have?
There are too many years of studying the living habits of Vietnamese people. I have also understood somewhat the value of fashion of art. And most importantly, BSMART has the ability to create classy spaces in top-class homes.
BSMART's dressing room has masterpieces in it. They are created from high-quality materials through the skillful hands of BSMART artisans with meticulous attention to every detail. Separate masterpieces converge full functionality, utility, aesthetics and indispensable expensive details in art. They themselves deserve to stand alone creating art, but when used as a reservoir for other beauties, they are even more amazing.
With art installations and harmonious lighting. This classy space will become a place of beauty, where homeowners live with their own emotions, their own fashion world.
Not only creating its own world, BSMART's Dressing Room will also be a proud space for homeowners. There is nothing but can proudly show your friends to admire more of what you have.
Especially not enough, BSMART's dressing room in each villa, penhouse is unique. Because each of those spaces is the clearest reflection of the personality and personality of the owner. But already character and personality, there will be no latter.
BSMART – masterpiece in high-class living space!
See more about Bsmart's dressing room collection here!
—–
Bsmart – Smart in details
Hotline: 093 422 1222 (HN) / 091 253 7997 (HCM)
Website: https://bsmart.vn/
Fanpage: https://www.facebook.com/bsmart.vn
Showroom address:
Hanoi: 230A Hoang Ngan – Trung Hoa – Cau Giay – Hanoi
HCMC: 67 Nguyen Co Thach, An Loi Dong Ward, District 2, HCMC
#Bsmartdesignvn #noithatBsmart #Bsmartconcept #Bsmartkitchen #tubephiendai #tubepthongminh #tubepsangtrong #tubepcaocap