What's ? Kitchen cabinets inside a 600 million VND
Kitchen cabinets – In the concept of Vietnamese culture, the kitchen becomes the embodiment of the family fire, a place for the whole family to gather to share with each other the worries in life and to deepen the friendship in every dinner. It can be said that the kitchen is not only a place to cook but also a space to store family warmth. Because of its importance, the owners of newly built houses are especially interested in choosing for themselves kitchen cabinets with satisfactory desires. In particular, in addition to the affordable prices, there are high-end kitchen cabinets of BSMART priced at over 600 million, a not small number. What makes them or what is it about those kitchen cabinets that they cost so much?
Kitchen Cabinets the appearance has a mixture of Asian-European art
Easily attracting all eyes, it must be said that these high-end kitchen cabinets possess a mesmerizing appearance. A beauty with many European styles but with quite clear Asian style lines. Vietnam's kitchen cabinet space is not very prominent and is almost only associated with primitiveness or simplicity. In the cradle of art, Europe has long had collections of kitchen cabinets in many different styles. Classic yes, modern yes and each one is cared for quite meticulously in appearance.
To create these high-end kitchen cabinets priced at 600 million, the artisan has spent a lot of effort researching, inheriting from European designs. But it only stops at inheritance and learning, not abuse, because in each design there is a unique look that only in the culture of the East. The harmonious blend of two Asian and European styles in the same product is the special creation of the deadly beauty of these kitchen cabinets. Affirm part of their value.
Besides, Bsmart branded kitchen cabinet sets are always unique. Each set has its own image. That unique quality comes from the hobbies and lifestyle of their owner. Each person is unique in the world and so are Bsmart brand kitchen cabinets.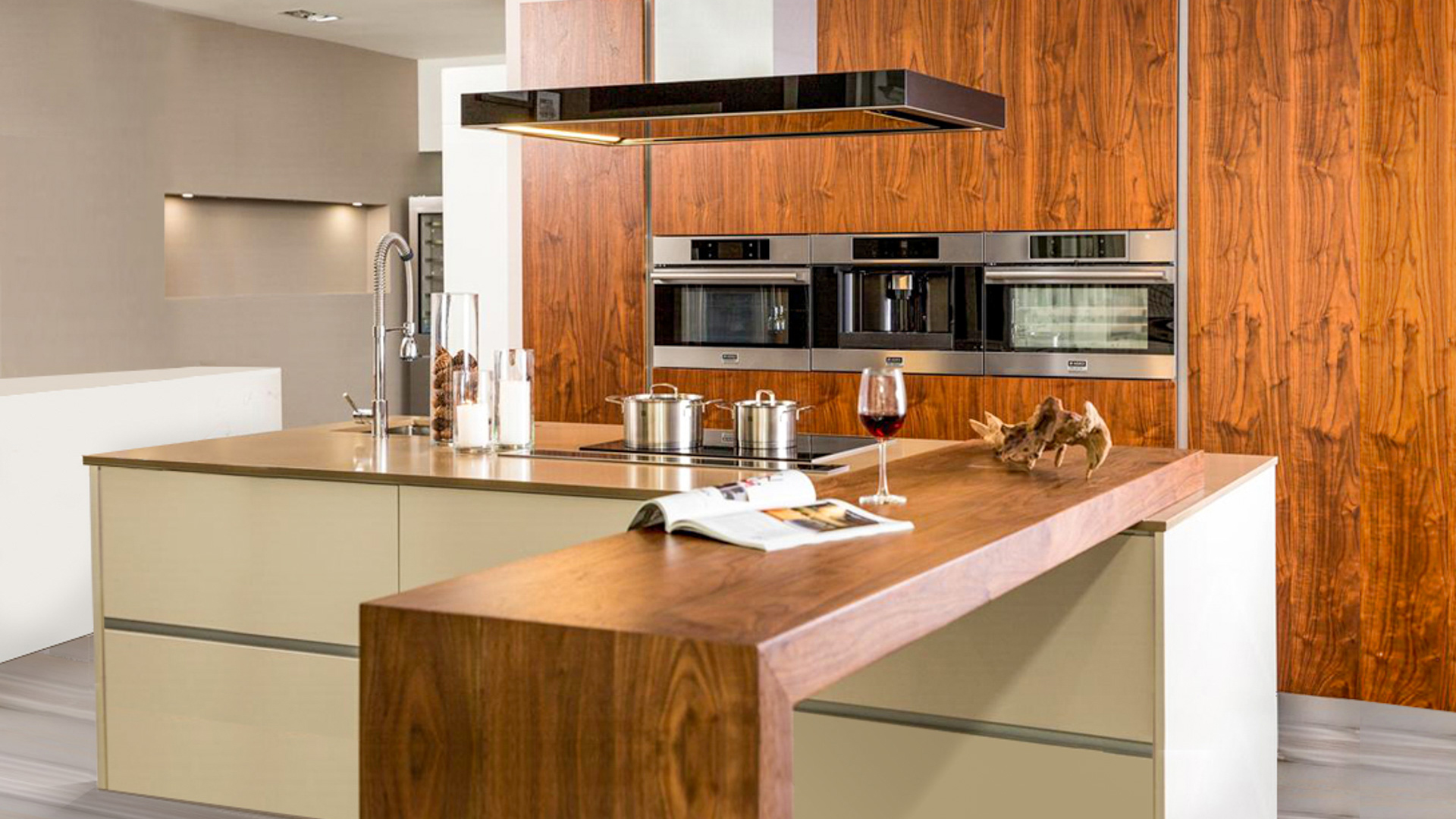 Kitchen Cabinets made up of high-quality materials
There are quite a few different materials that make up kitchen cabinets. In particular, it can be mentioned as stone to create the tabletop, wood to create the frame and details such as chests, drawers … In general, the ingredients that make up this high-end kitchen cabinet set priced at 600 million VND are of extremely good quality and are the most advanced goods.
From the countertops made of artificial stone (this type specializes in exporting to European countries, the US ,…) to each wood grain that creates the frame for kitchen cabinets originated in Dong Nai (home of high-end wood shipments recognized by the world for their quality and well received around the world). Or even the sliding rails of drawers are also imports from the cradle of luxuries.
There is a remarkable detail and can be considered as the clearest hierarchy of a set of ordinary kitchen cabinets with a set of high-end kitchen cabinets. That is the "anise" part – the back of the kitchen cabinet where not many people notice – if it is a regular product made temporarily by poor quality plywood, then in these high-end kitchen cabinet sets is completely different. Even the back of the cabinet is made consistent with the material that has created the exterior of the product. Or if because of the structure, the return must also use a material with a similar "substance".
Thoughtful design with careful research on usability
Completely worth the price of these high-end kitchen cabinets when not only aesthetic, the smallest details in this kitchen cabinet also have different uses. The sinks are designed with a minimum string of 20cm is extremely reasonable, because especially in Vietnam, housewives often have to handle large materials and need a deep sink. What European designs don't have.
One more detail that demonstrates the meticulous and systematic research when designing is the minimalism of drawers, the addition of extremely convenient spice trays (only suitable for the needs of cooking a lot of spices like in Asia). It is easy to see, without mechanically repeating foreign designs, each set of high-end kitchen cabinets costing 600 million of BSMART is created in a scientific way, with research to string together the living habits of Vietnamese people.
In addition, these high-class kitchen cabinets are also arranged scientifically with convenient travel spaces and a reasonable arrangement of storage positions to help facilitate the cooking process. If you are a fan of cooking, you will have a great experience with these high-class kitchen cabinets.
Contains feng shui elements
According to the Vietnamese concept, the kitchen is also the residence of Mr. Apple. Where the stove is located or the size figures of the stove are also worth noting. And these are almost perfect in each of these high-value kitchen cabinet sets.
High-end kitchen appliances contained inside
The price of 600 million does not include equipment, such a value, the choice of equipment cannot be sketchy. Not only is it made up of high-quality materials, but the kitchen equipment inside is also classy.
Inside the high-end kitchen cabinets under the BSMART brand are kitchen appliances of the No. 1 brand in the world such as ASKO, FAGOR, MIELER, TEKA,…
With the above factors, it is also very normal for high-end kitchen cabinets to have such high value. And they deserve to belong to classy masters.
See more of BSMART's premium collection here: https://bsmart.vn/kitchen
—–
Bsmart – Smart in details
Hotline: 093 422 1222 (HN) / 091 253 7997 (HCM)
Website: https://bsmart.vn/
Fanpage: https://www.facebook.com/bsmart.vn
Showroom address:
Hanoi: 230A Hoang Ngan – Trung Hoa – Cau Giay – Hanoi
HCMC: 67 Nguyen Co Thach, An Loi Dong Ward, District 2, HCMC
#BSmartdesignvn #noithatBSmart #BSmartconcept #BSmartkitchen #tubephiendai #tubepthongminh #tubepsangtrong #tubepcaocap