Top 5 interior design trends that are still trending in 2023
There are trends that become obsolete after only a short period of time, but there are also tendencies that bring endless emotions no matter how long it takes. In interior design, too, there are many bright and dark design styles and also timeless styles in favor.
2022 has seen the birth of many exciting and innovative interior design trends. These trends not only create a beautiful living space, but also bring comfort and convenience to users. And it seems, these trends will continue to prevail in 2023. In this article, we will learn about the top 5 interior design trends that stand out and are still very popular this year.
Scandinavian style
Scandinavian style is still a popular interior design trend. With neutral tones such as white, gray, and natural wood colors, the interior design in Scandinavian style brings a feeling of freshness and closeness to nature. This style focuses on simplicity and minimalism, with smooth lines, simple geometry, and empty spaces. Using natural materials such as wood and natural fibers is an important highlight in this style.
Towards sustainability
In 2023, interior design trends towards sustainability and environmental friendliness continue to be interested and popular. Using recycled, reusable materials and designing according to green standards are important factors in building an environmentally friendly living space. For example, use energy-efficient LEDs, less toxic materials, and energy-efficient air conditioning systems.
In addition, the application of new materials and new technologies to help furniture products be user-friendly is essential. At Bsmart, we have researched, researched and found Rubio Monocoat wood cleaning oil. A product that helps replace unhealthy chemical preparations while still ensuring the natural beauty of wood.
See more about Rubio Monocoat wood cleaner here!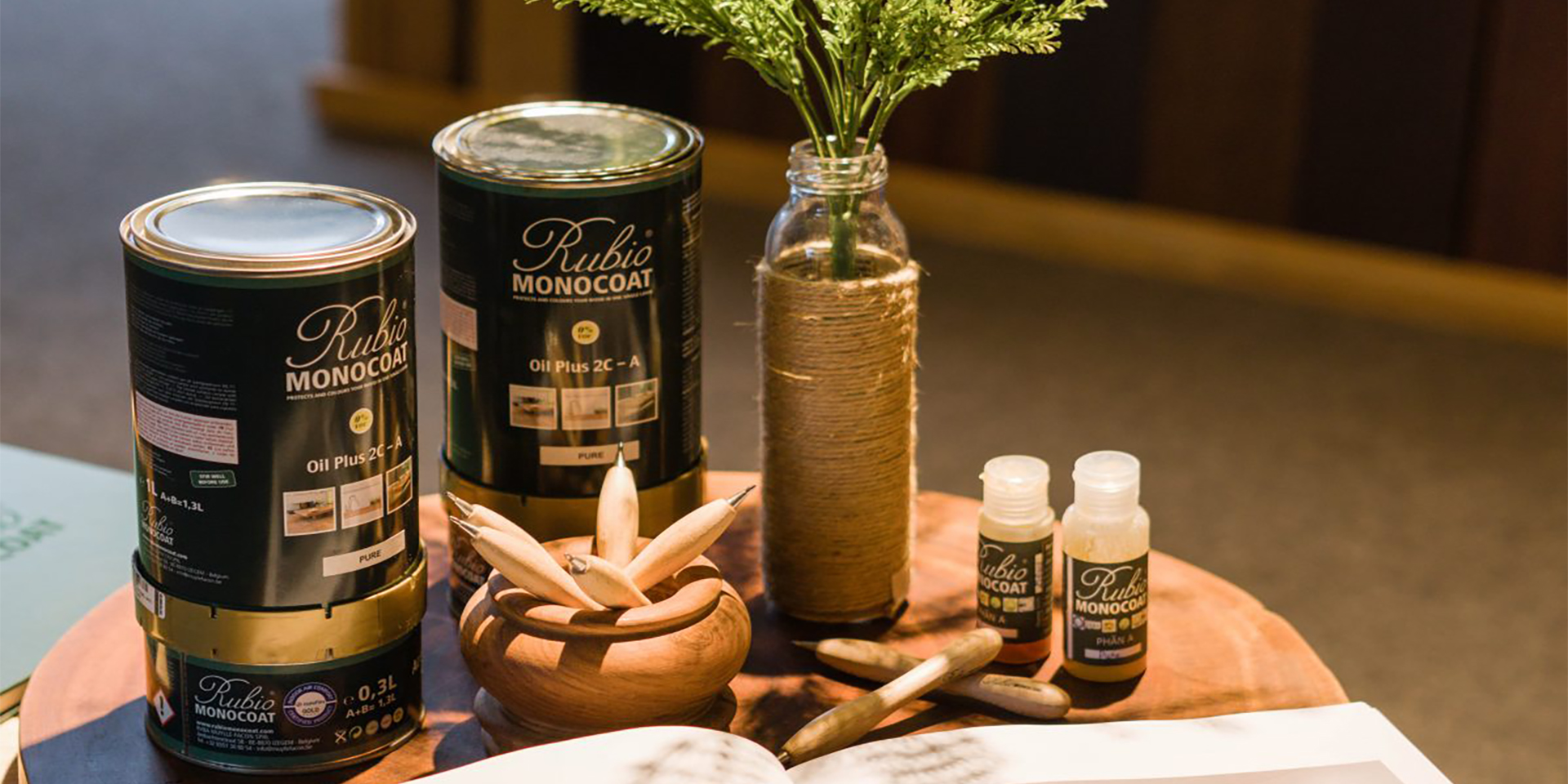 Open interior design trends
Open space remains a popular interior design trend in 2023. The open space design creates a feeling of spaciousness, airiness and creates a connection between indoor areas. Living spaces, kitchens and dining rooms are often combined into a single space, facilitating communication and interaction between family members. Using soothing materials and bright colors can help enhance comfort and create a sense of playfulness in the living space.
Minimalist interior design
Minimalist interior design remains popular in 2023. Simple lines, neutral colors, and empty spaces are intelligently utilized to create a sense of neatness, elegance and sophistication. The minimalist design helps to create a trafficked, easy living space and at the same time increases the ability to take advantage of natural light. Interior layout and selection of furniture items need to be approached carefully to create balance and harmony in the space.
Interior design blends with nature
The combination of living space and nature will remain a popular interior design trend in 2023. Use natural materials such as wood, stone, and greenery to bring nature into the living space. These materials not only create a feeling of relaxation and closeness, but also help balance and create harmony with the external environment. Interior design that blends in with nature can include the use of greenery, plant shelving, and natural light to create an open and refreshing living space.
The interior design trends of 2022 continue to prevail in 2023. From Scandinavian style to sustainable design, open space, minimalism and harmony with nature, each trend brings comfort and convenience to users.
Choose the right trend for you and enjoy a great living space this year.
—–
Bsmart – Smart in details
Hotline: 093 422 1222 (HN) / 091 253 7997 (HCM)
Website: https://bsmart.vn/
Fanpage: https://www.facebook.com/bsmart.vn
Showroom address:
Hanoi: 230A Hoang Ngan – Trung Hoa – Cau Giay – Hanoi
HCMC: 67 Nguyen Co Thach, An Loi Dong Ward, District 2, HCMC
#Bsmartdesignvn #noithatBsmart #Bsmartconcept #Bsmartkitchen #tubephiendai #tubepthongminh #tubepsangtrong #tubepcaocap #xuhuongthietkenoithat